Vale War Memorial 'not to move' vote decides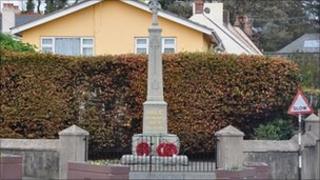 Guernsey's Vale War Memorial is to stay put after a close vote over whether to move it.
Parishioners voted to keep the memorial at the junction of Summerfield Road and Route de Couture, by 55 votes to 42.
Bill Cohu, who campaigned to move it to make it more accessible than its position by a busy road junction, said he was "a bit disappointed".
He said he accepted the outcome of the vote and would now work on giving the site some "love and tender care".
Mr Cohu, who had suggested the parish's douzaine room as an alternative site, said: "There was a good turnout of people, a lot of passionate speeches for and against and the vote went against, it was reasonably close.
"We had a fair vote and that's an end to it."
Alison Torode, who campaigned against the move, said she was "delighted" by the result for what was a "gateway" to the parish.
She said: "It will be nice to work alongside Bill and actually get the monument looking really nice now."