Guernsey coast road 'may collapse' without work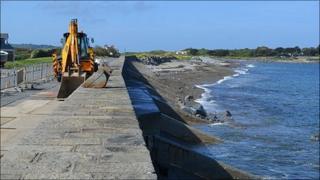 Without the reconstruction of sea defences along Guernsey's west coast the road above could collapse, according to the project engineer.
Jenny Greening said in the past boulders used as defences have eroded exposing the wall to the sea.
She said the 10-week project along the Rue de la Rocque was essential.
Ms Greening said this section of wall had a history of being undermined and the road had collapsed once before and she did not want that to happen again.