Guernsey court sentences rapist Filipe Burton to life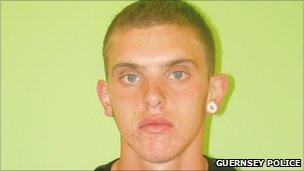 A rapist has been sentenced to life in jail by Guernsey's Royal Court.
Nineteen-year-old Filipe Nelson Burton, of Route Militaire, Vale, had pleaded guilty to one rape and two attempted rapes in St Peter Port last summer.
Judge Russell Finch described the offences as despicable and said Burton posed a highly significant risk of re-offending.
He handed down a life sentence for each of the three charges, to run concurrently.
Burton first struck on 17 July 2010 when he attacked a lone female walking along Forest Lane, a narrow, dark alleyway, at about 0200 BST.
After grabbing her around the mouth and waist he dragged her to the ground and raped her.
The victim said she feared he would kill her "if he did not get what he wanted".
A fortnight later Burton struck again, but this time further out from the centre of town near Beau Sejour Leisure Centre.
'Screaming uncontrollably'
His second victim suspected he was following her home after she had left Folies nightclub.
As she walked along Burton suddenly tackled her to the ground.
She said: "I punched him as hard as I could... I went into survival mode and fought as hard as I could.
"I was screaming uncontrollably, like a wild animal... he bit my ear and suddenly he got up and ran off."
Six weeks after the first attack Burton went back to Forest Lane to carry out his third attack.
This time he punched his victim in the face before attempting to rape her.
The police net gradually began to close on Burton once they had identified him from CCTV images.
When first questioned he denied the offences but DNA evidence linked Burton to the three attacks as did a silver necklace found at one of the scenes.
Speaking ahead of the sentencing, Det Ch Insp Ruari Hardy said: "I'd like to pay tribute to the victims and their families who have worked very closely with us and helped us during a very difficult and complicated time for them.
"It was a case that had a profound impact on the whole of Guernsey.
"It had a significant impact on how people went out and enjoyed themselves, particularly during the nighttime.
"Guernsey is a safe place, this sort of offending is so rare, but people still need to take reasonable steps."
Related Internet Links
The BBC is not responsible for the content of external sites.