Guernsey States agrees to care home spend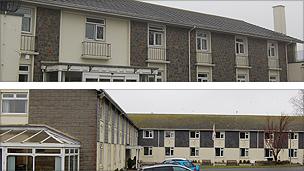 The States of Guernsey has agreed to spend £22m to replace two residential care homes with new buildings.
Maison Maritaine, Vale, and Longue Rue House in St Martin's were described as sub-standard by some deputies at the debate on Thursday evening.
An attempt to delay the decision because of uncertainty about how the homes would be funded in the long-term was thrown out by a vote of 30-14.
The new homes are expected to be completed in three years.
The Housing Department and Health and Social Services Department had described the homes as "no longer fit for purpose" for the about 100 people living there.
In the departments' report to the States the homes were described as "engendering a culture of dependence... rather than on enabling people to be supported to do things for themselves".
It said the homes were "largely unchanged in configuration", since Longue Rue House opened in 1963 and Maison Maritaine in 1971, and remedial work had to be undertaken to ensure the buildings remain safe and habitable.
The new accommodation will be built next to the existing homes, which will eventually be demolished, and the first phase at both sites will include enough new flats to accommodate all the current residents.
The £22m has been allocated for the first phase while the remaining development funds, expected to be about £10m, are due to be provided by the Guernsey Housing Association.
The homes are to be built as "extra care" housing and include self-contained flats, communal lounges, a restaurant, activity rooms and a hairdressing salon.
Residents have been told they can expect the same level of care, but can choose to live more independently if they wish.
Related Internet Links
The BBC is not responsible for the content of external sites.