Blue plaque honour bid for artist Denys Corbet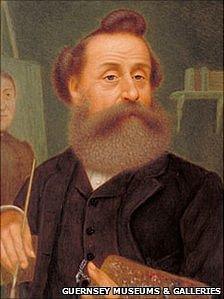 A Guernsey writer and artist will be honoured for his work by a blue plaque if planning permission is given.
Denys Corbet wrote poetry and prose in English, French and patois and he was best known for his paintings of cattle and horses in the 18th Century.
He was involved in Forest life as a parish constable and also worked as a farmer and a schoolmaster.
The plaque, which if approved would be installed at La Roberge Farm, has been funded by the Forest Douzaine.
Mr Corbet was born the second son of Pierre and Susanne Corbet (nee de Beaucamp) in 1826 at La Turquie in the Vale.
He was celebrated for his paintings of rural life, especially of Guernsey cows and bulls at a time when they were especially valued due to the breed's ascendancy and photography still being in its infancy.
His written works included the epic L'Touar de Guernsey, a picaresque tour of the parishes, Les Feuilles de la Forêt (the Leaves of the Forest) and Les Chants du Drain Rimeux (the Songs of the last Rhymster).
He was also an engraver, clock repairer, land valuer, editor of the French-language newspaper Le Bailliage and the writer of prose columns in Guernesiaise under the pen name Badlagoule (chatterbox).
He married Mary Elizabeth Wellington, had six children and lived at La Roberge Farm from 1877 until his death in 1909.
A previous attempt to put up a plaque was made in April 2009, the centenary of his death, which was before the blue plaque scheme was officially launched in Guernsey.
Related Internet Links
The BBC is not responsible for the content of external sites.