Guernsey and Alderney groups receive Queen's award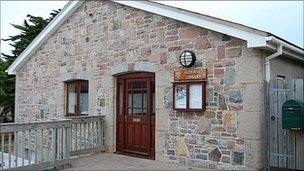 The Alderney Library and Guernsey's Dyslexia Day Centre have received the Queen's Award for Voluntary Service.
It is given to recognise groups of volunteers who work in the local community for the benefit of others.
The two groups were among 130 chosen from 413 nominated by members of the public and means a total of 14 Bailiwick groups have been honoured.
As recipients of the award they will be entitled to use the official crown logo.
The library has been run by volunteers since it opened in 1949 and was given the award for providing its services and fundraising for a permanent facility.
The group raised £200,000 for the new library, which opened in 2004 after a four-year build.
Sue Stewart, chair of the Alderney Library committee, said: "We are extremely honoured to receive the reward on behalf of all volunteers who have ever worked in the Alderney Library past and present.
"We are also excited that four volunteer representatives have been invited to attend a Royal Garden Party at Buckingham Palace."
The Dyslexia Day Centre was recognised for its work teaching children and young adults with dyslexia while also raising awareness of the condition.
Teresa O'Hara, centre manager, said: "We've got seven teachers, who all go into the primary schools and we also do teaching at some of the private schools and after school hours at the centre."
She said the centre was given a grant from the Education Department, but it was not enough to cover their expenses and it was only the dedicated work of the volunteers that raised the rest of the money needed to run the "vital service".
Both groups would receive a certificate signed by The Queen and an exclusive commemorative crystal presented by Her Majesty's Lieutenant Governor Peter Walker at a special ceremony.
Related Internet Links
The BBC is not responsible for the content of external sites.