Guernsey Ambulance and Rescue celebrates 75 years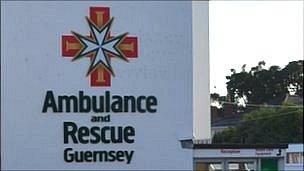 Guernsey's St John Ambulance and Rescue Service has unveiled a new look as it celebrates its 75th anniversary.
The organisation began in 1936 and became the island's only service when it took over from the States Ambulance service two years later.
A church service was held to bless the service's new standard, which has been adopted along with a new logo.
Malcolm Mechem, assistant senior ambulance officer, said the service had come a long way since its beginnings.
He said: "On this day in 1936 when we started it was just a question of one vehicle with a couple of volunteers who used to pick up the patients straight onto an old stretcher and straight into hospital.
"Nowadays we take treatment to the patient so it's a totally different ball game."
Mr Mechem said the new logo fused the messages of St John with the Maltese Cross and the colours of the Guernsey flag.
Jon Beausire, chief ambulance officer, said: "In the early days the ambulances were purely a transportation service that would carry injured or sick islanders to the hospital for treatment.
"Now our ambulances are state-of-the-art and are crewed by highly-trained paramedics and we take medical care to the patients. It is a very different philosophy."
The service provides not only ambulance and paramedic cover for Guernsey but rescue services including the cliff rescue and inshore rescue boat and the marine ambulance which allows aid to be brought to those in need in Sark and Herm.
The service has tried to use 2011 and the anniversary to raise the level of awareness among islanders of how it is funded, which is through a States grant of £2m, service charges, medical equipment hire fees, bequests, donations and fund-raising.
Mr Beausire said the grant pays for about 75% of the running costs of the road ambulance commitment while the shortfall and other aspects of the service relied on fees, charges and people's generosity.
He said discussions were ongoing with the States about them possibly increasing the grant to fund the paramedic side of operations, and the service was looking at ways of increasing the income from charges and subscription fees.
Mr Beausire said: "In these austere times, we have to also look at future fund-raising and find ways to enhance the level of donations that keep these vital services running."
Related Internet Links
The BBC is not responsible for the content of external sites.