Reward offered over arson attacks on vehicles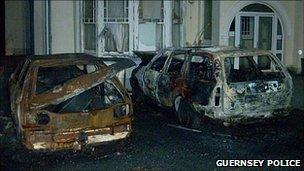 A £350 reward has been offered by Crimestoppers for information on a recent spate of arson attacks in Guernsey.
The bank holiday weekend saw nine vehicles torched, some while they were parked in driveways near to properties.
Andy Goodall, crime reduction adviser, said those responsible needed to be tracked down before somebody got hurt.
He said: "At the moment it's damage, which is bad enough [but] the potential here is for injury or even worse."
Mr Goodall added: "This isn't just a policing problem, this is a problem within the community that we've got to nip as soon as we can and get these offenders before the court.
"We really need the public to come on board with this and give us some help."
Related Internet Links
The BBC is not responsible for the content of external sites.