Guernsey Post applies to regulator for stamp price rise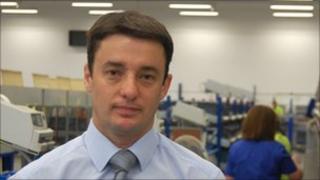 Guernsey Post has asked the island's regulator for permission to increase its stamp prices from August.
The company wants to put up the price of sending a letter to the UK by 2p to 47p and a large letter by 3p to 61p.
Packet prices would rise by 9p to £1.29 under the proposals - an increase of 7.5%. The price of sending a parcel would go up by £2 regardless of weight.
The new prices would apply until March 2012. A public consultation on the rises runs until Monday, 4 July.
Guernsey Post said it was "looking to change the prices only of those services that are directly affected by the increase in Royal Mail charges."
Boley Smillie, Guernsey Post's chief executive, said negotiations with the UK company had been successful.
'Challenging economic climate'
Royal Mail price increases will come into effect from 1 July rather than 1 April, following the negotiations.
These will see bulk large letter and packet prices go up on average by just over 1p and 8p respectively, whilst the average public tariff for sending a letter to the UK will increase by 2p.
Guernsey Post has estimated the cost of these increases to its operations at a little more than £1m.
Mr Smillie said: "I am confident that we have negotiated the very best possible agreement for all our customers in a particularly challenging economic climate."
John Curran, the director general of the Office of Utility Regulation, said: "While these proposed price increases are significant and unwelcome, we are of the view that it is right that they are passed on to customers."
Comments on the proposed rises can be submitted to the regulator by post or e-mail.