Guernsey's Lieutenant Governor promises to work hard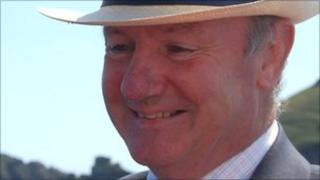 Guernsey's Lieutenant Governor has promised to work hard during his five years in the post, saying he is not interested in taking it easy.
Air Marshal Peter Walker said he and his wife Lynda were determined to "get a feel" for the Bailiwick and serve the islands.
"It's important to work hard and to be seen to work hard," he said. "I didn't come here for the easy life."
AM Walker said he intended to visit every school and church in Guernsey.
Since being sworn-in in April, he has visited the law officers, the prison and the airport, as well as the fire and police stations.
He told BBC Guernsey it was a privilege to represent the crown in the Bailiwick.
"It's very clear to me that Her Majesty and the royal family are held in the highest esteem here in the islands."