Guernsey airport runway project to bring in 150 workers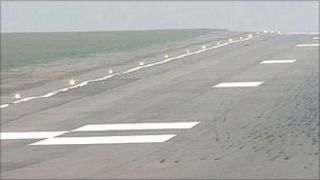 More than 100 workers involved in Guernsey's airport runway project could be housed in temporary accommodation at Longue Hougue in St Sampson.
The States will, at their July meeting, debate an £80m upgrade by preferred contractor Lagan Construction.
Local sub-contractors have yet to be chosen but it was revealed on Friday that up to 150 staff will need to be brought over to the island.
If approved, it will be Guernsey's biggest ever capital project.
Colin Le Ray, the airport director, said he was looking at where the visiting staff could stay.
"The intention is to split the workforce between two sites," he said.
"The first site is likely to be at the Forest Road water tower, where there'll be a very small accommodation block for many of the engineers, supervisors and managers.
"The balance are likely to be housed down at Longue Hougue in an accommodation block at the back of the reclamation site."
However Mr Le Ray indicated that the number of visiting workers would not remain as high as 150 throughout the two-year project.
He said it would be "likely to be the peak demand at the most intensive part of the contract".
The work will involve levelling and resurfacing the existing runway, moving it 120m (394ft) further west and rebuilding the concrete apron areas where aircraft park.
A new drainage system will also be installed and ground lighting and other operational systems replaced.
The development is predicted to serve the island for the next three decades.