Guernsey traffic warden's tickets total £500,000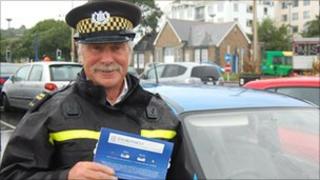 A Guernsey traffic warden has retired after issuing more than £500,000 in parking tickets to drivers.
Bernie Falla, who was born on 19 June 1946, retired on Friday after his last working day before turning 65.
Mr Falla said he liked to exercise leniency but had no regrets, especially when it came to particular offences.
"People that park in disabled bays that haven't got a badge, they should pay much more for their tickets. I think it's a despicable act," he said.
Mr Falla said he had heard many excuses from drivers and on one occasion he was so distracted, he put the ticket on the wrong car.
He told BBC Guernsey he once issued 78 tickets in a single day in St Peter Port alone.
"It was one particular day when I think everyone had sunstroke," he said. "It was just one silly day."
Mr Falla has been guilty of parking illegally himself but said he had only had one ticket "many, many years ago" and it had cost £10.
Tickets now cost £30.
Mr Falla, known to his colleagues as "Silver Fox", said the job was much more varied than people might think.
Traffic wardens on Guernsey also double-up as special constables and on one occasion he was called to help police round up two escaped rhea birds (similar to an emu) in the Castel parish.
He chased the birds around a field before managing to keep them steady.
"I stroked their necks to calm them down and then one of them decided he was going to mate with me and ended up chasing me around the field," he said.