Le Grand Bouet Estate's last house pulled down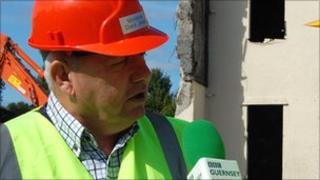 The last remaining house in Le Grand Bouet Estate has been pulled down.
Demolition of the States housing complex began in June 2009, after the island's Housing Department decided it was no longer worth maintaining.
A new estate will be built on the same site, featuring a mix of social and part-ownership housing.
Deputy Dave Jones, the housing minister, said: "It's an estate I've been waiting to see the back of for the 11 years I've been on housing."
After pulling down the last wall on Wednesday using an excavator, he said: "It's the end of an era. Good riddance to it."
The new estate will include 60 houses - some with two and some with three bedrooms - and 20 one-bedroom flats.