Chicken cull planned near Guernsey's Vale Castle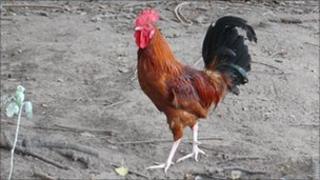 Up to 150 chickens living near Guernsey's Vale Castle are to be culled unless their owners claim them.
The Commerce and Employment Department said it had ordered the birds to be killed for reasons of traffic safety and to prevent the spread of disease.
Owners wanting to claim the birds have been given until 25 August, when the cull is due to begin.
Sue Vidamour, of Promoting Animal Welfare, said: "I think it's necessary. I'm concerned as to how they'll do it."
'Dumping ground'
She said previous culling attempts by the department had been carried out using "traps that don't work".
A spokesperson for Commerce and Employment told BBC Guernsey that the licence it was issuing for the cull "requires that the birds will be culled by a professional pest control company using humane methods".
In 2005, more than 200 chickens were removed from the site just to the north of the castle.
But Ms Vidamour said the problem had recurred because of islanders disposing of the birds.
"It's a well known dumping ground for cockerels," she said.
"These particular birds breed very well... so they increase in number quite quickly."