Guernsey politicians to be asked to adopt a 'Hansard'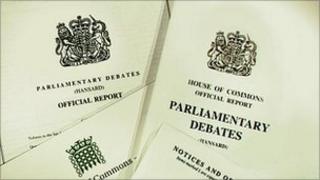 Guernsey's government could introduce a written record of its proceedings, if plans are approved by politicians.
The States Assembly and Constitution Committee has proposed an equivalent of the Hansard report, which is an account of speeches made in the UK parliament.
The committee argued the move would bring additional transparency and accountability to island politics.
It suggests using voice recognition technology in conjunction with the Tynwald in the Isle of Man.
Deputy Ivan Rihoy, the committee's chairman, said: "Staff and equipment employed to produce reports of Tynwald are not fully utilised."
Trial run
He said: "The Manx authorities would therefore be willing to enter into an agreement with the States regarding the production of an official report of the proceedings of the States of Deliberation."
The cost of the initiative is estimated by the committee to be £20,000 a year.
Deputy Rihoy said copies of the report would be made available for public viewing "at certain key locations".
As a trial run of the technology, one day of States procedures from the January 2011 meeting was recorded, which cost £470.40 to produce.
It ran to 112 sides of A4 paper, with the longest single speech made by Vale Deputy Matt Fallaize at just under six sides.
The committee's report noted that the Treasury and Resources Department was "investigating the possibility of publishing audio files of recordings of States debates on the internet".
All States debates are broadcast live on BBC Guernsey's 1116 MW frequency, however the BBC does not yet have permission from the States to make these broadcasts available online.