Specsavers opens optometry school in Zambia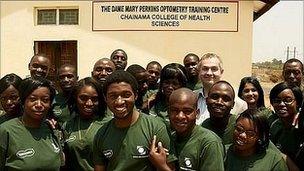 A Guernsey-based optician has opened an optometry school in the Republic of Zambia, where there is no public eye care system.
Staff and customers in the British Isles helped Specsavers raise more than £300,000 to open the centre.
Company founder Dame Mary Perkins, who opened the school, said it was a vital facility for the African country.
She said in rural areas being able to see could be the difference between life and death.
Currently the population of 12 million people is served by a handful of trained optometrists and volunteers and aid from overseas.
The facility, which took two years to build, already has 11 students training with a further 13 due to join them.
Dame Mary said: "This is a critical facility which will help transform the lives of people living in Zambia who have vision difficulties.
"I visited some of the outreach clinics to see for myself what an incredible difference an eye examination and a simple pair of glasses can make in someone's life - something we in the western world take very much for granted.
"For children, if you can't see to read and write or see the blackboard, then your education is extremely hampered and if you can't see to work then you cannot support your family.
"This can mean the difference between life and death in rural communities. It really is as simple as that."
The company aims to raise a further £300,000 to fund six more vision centres, one in each province of Zambia, by 2015.
Dame Mary said: "I personally guarantee the whole of Zambia will have access to eye care by 2015."
The project has the backing of the Zambian Ministry of Health and charities Sightsavers and Vision Aid Overseas.
Related Internet Links
The BBC is not responsible for the content of external sites.