Seagulls released in Guernsey following illness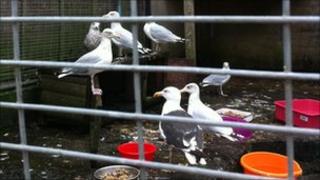 A flock of seagulls has been released in Guernsey after recovering from an illness that killed more than 40 birds.
The GSPCA treated more than 50 gulls suffering from what was believed to be botulism, and has now released 12 rehabilitated birds.
Steve Byrne, manager of the GSPCA, said: "Thanks must be extended to the people of Guernsey and the surrounding islands for their vigilance."
It was originally thought the gulls were suffering from E. coli.
Most of the birds were herring gulls.
The International Union for Conservation of Nature put the herring gull on its red list of endangered species for 2011.
The red status came as a result of the decline in populations over the last 40 years.