Truro Cathedral holds fundraising concert for flood victims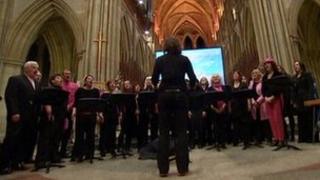 About 300 people have attended a fundraising concert at Truro Cathedral for victims of the November 2010 floods in Cornwall.
The concert, on Friday night, marked the forthcoming first anniversary of the floods on 17 November.
The concert was organised by the Cornwall Community Foundation, Truro Cathedral and the Eden Project.
All of the money raised will go to the Cornwall Flood Fund, organisers said.
About 230 homes and 400 businesses were affected by flooding, with water reaching up to 6ft (2m) deep in places.
Mevagissey, Lostwithiel, St Blazey and St Austell were among the worst-hit areas during the floods.
Organisers of the concert said they had yet to count up how much money was raised, but it was expected to be thousands of pounds.
Diana Mullis, from Lostwithiel, who has received help from the fund after her property was hit by the floods, said that any money raised showed that "people still cared".
She said: "You can't put monetary value on that. But because people cared enough to put their hands in their pockets, that lifted me enormously."