Guernsey Hedgehog Rescue Centre closes its doors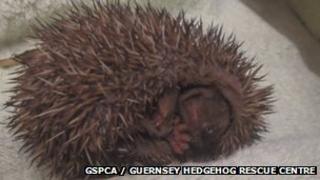 The founder of Guernsey's Hedgehog Rescue Centre has described closing down the facility as one of the most difficult decisions of her life.
Dawn Robin cared for hedgehogs from the island for more than 10 years.
She said she had unsuccessfully asked businesses and residents for help with volunteering and donations.
Hedgehogs still in the centre will be looked after until they can be released, and future work will be taken over by the GSPCA.
The two groups take care of more than 1,000 hedgehogs a year between them.
Ms Robin told BBC News she blamed an increased workload and lack of help over the last 18 months for the closure.
"The pressure has been extremely severe ... we had put out a plea for help ... we failed," she said.