Changes to Alderney land use plan affect green-belt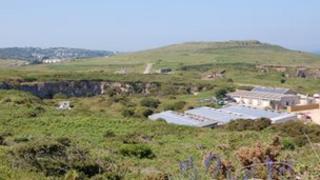 Green-belt land will be lost, and a former quarry will be re-zoned for light industrial use following a change to Alderney's Land Use Plan.
The States of Alderney voted for alterations to the island's Land Use Plan by a majority of seven to three.
Chairman of Alderney's Policy and Finance Committee, John Beaman said the changes were "particularly important".
He said: "We need to have facilities for businesses to operate and there just isn't enough commercial space."
The moves will encourage businesses to set up in Berry's Quarry, while another quarry - Corporation Quarry - will be re-zoned for recreational use.
Alderney's Land Use Plan is reviewed every five years, and the latest changes also included provisions for an area to be used for social housing.