Historian calls for Brothers' Cemetery to be repaired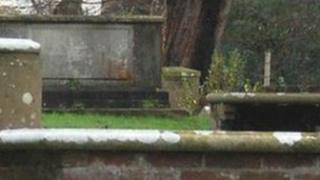 Guernsey historian David Kreckeler has called for the Brothers' Cemetery to be repaired rather than dismantled.
Parish constables announced in December a plan to turn the site - opposite Anne's Place - into a woodland garden.
Mr Kreckeler said: "If they're going to spend the money dismantling it, they could spend the money repairing it."
The public has been invited to raise any concerns at a hearing of the Ecclesiastical Court at the St Peter Port constables' office on 20 January.
The plan would see all but one of the vaults dismantled, with the vault lids and their side panels placed along the western boundary wall.
The graves would then be filled with granite dust and soil.
Former Bailiff
However Mr Kreckeler, whose book of transcribed inscriptions of the vaults is mentioned in the plans, said this would be difficult to achieve.
"I can't see how you can dismantle five pieces of a tomb and stand it up, when some are going to be about 3ft by 3ft 6in (0.9 by 1.10m) and others are going to about 7ft (2.1m) long by 3ft 6in wide," he said.
Mr Kreckeler said a plan in the 1970s to turn the site into a multi-storey car park was the inspiration for writing his book, called The Brothers Burial Ground, 1719 - 1948.
"I think that's when I thought 'If they're going to take that apart - as I'm interested in history - I'll go and record it,'" he said.
The last burial took place at the cemetery - originally known as La Cimetiere des Freres - in 1947.
However, many of the islanders interred there were well known, including jurats, seneschals and the former Bailiff of Guernsey, Sir Peter de Havilland.
Mr Kreckeler said some vaults contained the remains of "40 or 50" family members.
He suggested the site could still be used as a place of recreation without removing the stonework.
"My idea might be to make the best of both worlds," he said. "Repair it, number the vaults with a glazed tile which would stick on... and a plan could be made and people could walk around."
Junior Constable Dennis Le Moignan has said the site is in "a sad state" but could become a popular spot, if properly developed.