Guernsey may raise memorial plaque for Titanic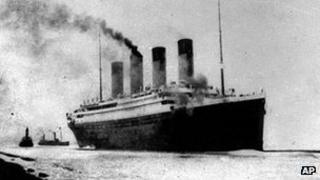 A plaque may be installed to remember 14 Bailiwick of Guernsey residents who lost their lives in the sinking of RMS Titanic.
The descendants of some of those who died have called for them to be remembered in the island.
Guernsey Museums has agreed to co-ordinate the project, which will be funded by the family of one of those who died.
The project aims to have the plaque in place for the centenary on 15 April.
Helen Glencross, the Historic Sites Curator, said: "There's some lovely stories about the different people on the boat, people going to find their fortune in America, people going back to America who were living there and also people who were just going to visit family.
"We'd love to hear from anybody who believes they have a connection and would like to have some input into this plaque."
The location for where the memorial could be placed has yet to be decided.
Mrs Glencross said: "We are in discussions with the harbourmaster at the moment. We were thinking about Fort Grey [the island's shipwreck museum] but the family members feel it should be near the harbour.
She said she wanted "to move forward with this as quickly as possible" in order to get planning permission and have the plaque made before the 15 April 2012.
RMS Titanic hit an iceberg at 23:40 on 14 April 1912 and sank two hours and 40 minutes later, with the loss of 1,517 lives.
The wreck still rests on the seabed, 375 miles south east of Halifax, Nova Scotia, Canada.
Alongside the 14 people with Guernsey connections who lost their lives five people survived the shipwreck.
Lillian Renouf, 30, lost her husband Peter in the tragedy. They had emigrated to America in 1907 and were returning home to Elizabeth, New Jersey, with her two brothers Clifford and Ernest Jefferys after visiting family in Guernsey.
Anne Martin, 39, was a 1st Class stewardess and one of only 23 women crew members.
Lillian Bentham, 19, was travelling home to Holley, New York, after a European tour and a visit to family in Guernsey. Her godfather William Downton lost his life in the disaster.
Emily Rugg, 21, was planning to spend a year with cousins in Wilmington, Delaware, to see if she wanted to live there.
Joseph Duquemin, 19, was a stonemason from Port Grat who was travelling to Albion, New York to find work.
He swan out to collapsible boat D and was eventually allowed on board when he then helped save two more people from the water.
His survival was unusual as he had travelled in 3rd Class and his friend Albert Denbuoy was not as lucky.