Guernsey explorer sets sights on Kalahari desert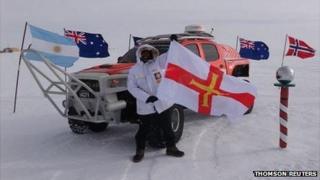 A Guernsey man who was part of the team that set a new record for the fastest overland journey to the South Pole may take on the Kalahari desert.
Jason De Carteret said that as he would be spending between four to six months in Botswana, he was considering an expedition across the African desert.
He said: "If an opportunity comes my way I normally grasp it with both hands."
Mr De Carteret has also skied to both the North and South poles.
The voyage to the South Pole was made in a specially modified vehicle, dubbed "Polar".
Mr De Carteret, who is heading to Botswana at the end of the month, said: "...instead of shipping Polar back to the UK, I'm thinking her capabilities might be well suited to maybe a little cheeky Kalahari-type expedition.
"The Kalahari is obviously a vast expanse of virgin desert, which is very, very hard to drive because it's very soft sand.
"With Polar's large wheels she can handle snow and she can definitely handle sand."
Mr De Carteret said he would look for an expedition that had not been undertaken or completed before and try to "achieve the impossible again".
He said that the most rewarding part of his South Pole expedition had been giving talks to children at schools.
He said: "Hopefully they'll grow up to be bigger and better explorers than anyone we've yet heard of."