Les Bourgs Hospice 'has enough bed space'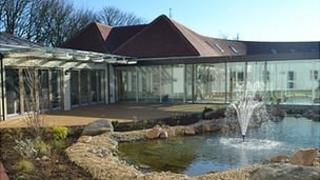 There are enough beds at Guernsey's newly refurbished Les Bourgs Hospice, its director of nursing has said.
It follows concerns raised by members of the public that there are just seven beds at the charity's site in St Andrew, which reopened this month.
Jo Boyd said they used an assessment formula to calculate the amount of beds needed per head of the population.
She said: "It shows us we need just over five beds so by having seven we have already slightly 'over-bedded'."
Before the £4m refurbishment project the centre, which is funded entirely through public donations, had five palliative care beds with shared facilities.
All seven of the new beds are in single rooms with individual en suite bathrooms and easy access to the hospice's gardens.
Ms Boyd said: "It's not all about inpatient beds it's also about our day hospice and also about us looking to the future and perhaps supporting patients and their families more in their own homes if we can afford to do so."