Guernsey Airport project compounds build to begin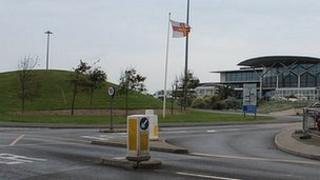 Residents living near Guernsey Airport have been sent warning letters as work on construction compounds needed for an 18-month project is due to begin.
The aim of the £80m project is to equip the airfield to serve the island for the next 30 years.
Work on five sites, which will include workers' accommodation and large machinery, is due to start next week.
Guernsey Airport authorities wrote to more than 800 homes in the area to give notice of the start of construction.
A 24-hour telephone helpline has been set up to allow islanders to report any disturbances to the authorities.
Investigations for the work are due to be carried out overnight and are also due to start next week.
This involves the use of a large excavator to identify the depth and nature of the rock beneath areas of the airfield.
Besides the five compounds work has already begun on a temporary dock and aggregate storage facility at the Longue Hougue.
The Public Services Department, which oversees the airport, said the closure of La Mare Road, to allow for an extension of the runway and its safety areas to the west, would follow the completion of work at Route de la Tourelle and Route de Plaisance.
Minister Bernard Flouquet said every effort would be made to ensure that any disruption was kept to an absolute minimum while the major works were carried out.