Guernsey Electricity sells shares in SeaGen turbine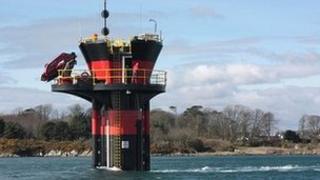 Guernsey Electricity has sold its stake in the only commercially operating tidal turbine in the UK.
The firm had a minority share in Marine Current Turbines, or MCT, developers of SeaGen, which has been sold to technology business Siemens.
Alan Bates, managing director of Guernsey Electricity, said it was felt the sale was the best course of action.
He said Siemens was increasing its stake in the business and it was not in the firm's best interests to compete.
SeaGen is a 1.2MW tidal energy converter that was installed in Strangford Lough, near Belfast, in 2008.
Mr Bates said: "This project has given us invaluable access to research and development into tidal turbines.
"The SeaGen unit is currently the only commercially operating tidal turbine in the UK and Siemens' ongoing interest in the company demonstrates its status as the technological leader in this area.
"We remain convinced that tidal technology is a viable prospect in Bailiwick waters and the experience we have gained working with MCT means we are now in a much better position to develop this option in the best way for the island."
Guernsey Electricity is a limited liability company wholly owned by the States of Guernsey.