Guernsey Olympic torch route revealed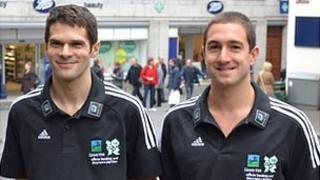 Two Commonwealth Games athletes will be among those carrying the Olympic torch through the streets of St Peter Port, Guernsey.
The flame is due to visit both Channel Islands of Guernsey and Jersey on 15 July in the run up to the 2012 London Olympics.
After arriving in Guernsey at about 09:00 BST the torch will be transported to the start of the relay at Havelet.
It will be carried by both cyclist Rob Smart and swimmer Tom Hollingsworth.
Mr Smart competed in the mountain bike events at the 2006 Commonwealth Games in Melbourne, Australia, while Mr Hollingsworth was in the pool in 2006 and the 2010 Games in Delhi, India.
Mr Smart said: "It's going to be a fantastic day, there's so much planned throughout the island for the arrival of the torch relay and it's going to be brilliant to be involved in it."
He said that as well as carrying the torch he would be among those taking part in a criterium race, which is due to take place in St Peter Port as part of the celebrations.
Mr Hollingsworth said: "It's such an honour, especially as it's the London Olympics."
He said he had been inspired to compete at the Commonwealth Games after he represented Guernsey in the 2003 Island Games, and being chosen "topped everything off".
Other confirmed relay runners include Guernsey FC striker Ross Allen, Special Olympians Andrew Harrison and Jamie Bichard and 18-year-old rugby star Luke Jones.
A total of 11 have been named so far with the others being: Peter Beausire, Dil Diligent, Michelle Kohlschein, Jo Norman and Hannah Pearce.
The torch will be carried from Havelet past Castle Cornet and along North Esplanade before turning inland.
After being taken through Le Pollet and the High Street, it will reappear on the seafront and take in the Victoria and Albert Piers before the relay's end at the Val des Terres.
The flame will then be transported back to the airport and on to Jersey, arriving shortly after 12:00, and will end the day in Portsmouth.
The journey through the islands is part of a 70-day tour across the British Isles before the torch arrives at London's Olympic Stadium for the opening ceremony on 27 July.
The last relay runner will then transfer the flame to the Olympic cauldron, which will continuously burn until it is extinguished on the final day of the Games.
Thousands of torchbearers have been recruited for the flame's journey before the opening ceremony.
Each torchbearer will wear a white and gold uniform which has been specially designed for the occasion.