Guernsey Airport alters aircraft parking arrangements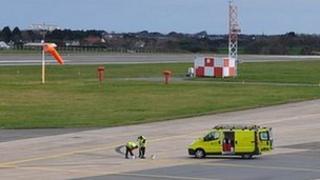 A new system of parking aircraft at Guernsey Airport has been introduced, as part the first stage for four planned two-day closures.
Commercial planes now have to park nose-in and new tugs will push them back before they depart.
The system had been included in the plans for the new terminal, which was completed in 2004.
Colin Le Ray, Airport Director, said the system allowed more room for aircraft to be parked.
He said it was especially important during the £80m two-year project to upgrade the airfield and move the runway 120m to the west.
The closures have been planned as part of the work cannot be completed while the airport is open.
Mr Le Ray said: "It does allow extra flexibility for the airport, we have to delay flights occasionally and we are very constrained on the amount of apron we have so the intention is to make it a permanent arrangement."
The airport authorities have agreed to pay for the system during the two years of the project, but its long-term funding has yet to be agreed.
Airlines have already warned the cost will be passed on to passengers if they have to pay for the parking arrangements.
The other closure dates are 8-9 May, 27-28 November and 4-5 December.