'End of era' for Guernsey bus operator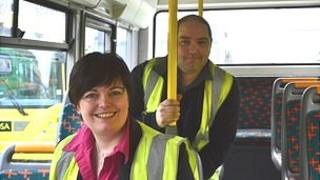 The end of a contract to operate the Guernsey bus services is "an end of an era", according to the managing director of Island Coachways.
Hannah Beacom said she had mixed feeling for what was a significant point for the company.
Island Coachways will stop operating the island's buses on Saturday.
The Environment Department and its preferred provider, CT Plus, have yet to sign a contract for services to run from 1 April.
Island Coachways was set up in 1979 specifically to cater for groups of students travelling to the island for educational holidays.
Alongside its own coach tours it has run the island's bus services for more than 10 years and before that operated a third of the scheduled routes.
In November it pulled out of renegotiation talks with the Environment Department ahead of the end of a five-year contract in December 2011.
At the time the company agreed a three-month extension to the contract, but warned it would have to shed jobs.
Mrs Beacom said: "We will be very sorry to see such a significant proportion of our staff leave us that have worked alongside, some of them for 10 years... we almost feel like we're halving the family."
She said of the more than 50 staff leaving the company "nearly all are heading to work for the HCT Group".
Mrs Beacom said that was good news for what is definitely family business: "The board is all brothers and sisters and although not set up by my late father he ran it for quite some time... and we see the staff as our friends."
Toby Boucher, director and brother, said: "It has its ups and downs, it helps that we know each other, there's things we can say, there's things we don't actually need to say because a look says it all.
"It does have its problems - family tensions do sometimes spill over into the workplace, which isn't necessarily a good thing."
He said the end of the contract meant the company would focus on other areas of its business, which includes commercial vehicle maintenance, private hire vehicles, tours and a driving school.
Mrs Beacom said: "We'll miss our passengers, we'll miss that contact with the community as a whole because you get a feel for what is going on everywhere as you carry such a massive cross-section of the island.
"Certainly when we see the vehicles travelling around and they are no longer ours - well the States' vehicles but out of our control - I think there will be a certain sadness as you're no longer involved."
She said the biggest challenge in running the island's buses had been in persuading islanders to use them.
Mrs Beacom said: "There's such massive car ownership on the island... we've had to really work hard to say to the travelling public one day you may walk, one day you might use your bike, you might need to take your car because you have to, but within that mix could you consider using the buses.
"We've seen significant growth and I hope HCT Group and Environment together can grow on that and build further as the island should have a good bus service, but it's got to be supported to be increased."