Guernsey band The Risk win name trademark battle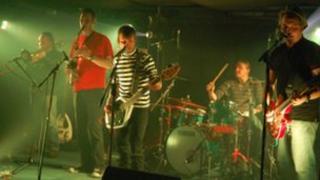 Guernsey band The Risk have won the right to trademark their name after a legal battle over intellectual rights.
The band first raised the issue in October after a group with the same name appeared on the television programme The X Factor.
Hasbro, maker of the board game Risk, and a number of other companies, were informed of the decision by the UK Intellectual Property Office.
An application on behalf of the band's X Factor namesakes is ongoing.
Guernsey's The Risk formed in 1984 and have released five albums and toured extensively, although had not previously registered their name.
Band member Colin Leach said: "When you start off a band, you don't really think 'oh, we'd best trademark our name'.
"It just wasn't really something bands really thought about in the day."
He added: "It's a lesson learned really... it's been a bit of a battle but we've got there in the end."
The band have now registered their name as a trademark with the Intellectual Property Office.
It is not the first time that The X Factor has been in the news over band names.
Last year's winners, Little Mix, were originally called Rhythmix until a Brighton-based charity of the same name protested.
The charity, which provides music tuition to children, had argued X Factor's use of the name would cause confusion and wrote an open letter to Simon Cowell asking him to intervene after the mix-up was revealed.