Alderney allows camper vans and caravans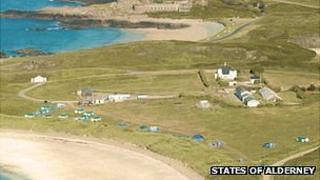 Visitors to Alderney will be allowed to bring camper vans and caravans to the island for the first time.
The States of Alderney approved the move following improvements to the island's only campsite at Saye Bay.
The island's government invested about £150,000 to provide new facilities, shower blocks and toilets.
The States of Alderney's chief executive officer, Roy Burke, said he hoped the policy change would encourage more people to visit the island.
He said the camping vehicles should be no higher than 6.9m and that drivers would need to book on to the campsite and apply for a permit from the States of Alderney.
The change in policy allows for mobile homes to be used as accommodation only at the island's campsite.
However, due to the size of the island, the number of vehicles will be limited and will only be allowed to be stationed on the authorised campsite and can only be driven on the roads to and from the campsite.
Previously the size of the island - 1.5 miles by 3 miles - meant the States did not allow the vehicles and under the new rules numbers will be limited.