Guernsey government's scrutiny process 'lacks urgency'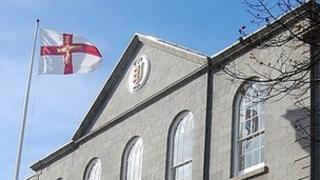 An independent review into the three committees responsible for scrutinising Guernsey's government has recommended they be scrapped.
The report's author, Belinda Crowe, said: "The present system of scrutiny lacks a sense of pace and urgency."
Instead, she recommended the formation of an over-arching Scrutiny Management Committee of three members and a 12-strong Scrutiny Panel.
The report was commissioned by the Policy Council in November.
Ms Crowe, a former senior civil servant at the Ministry of Justice in the UK, said: "The barriers to effective scrutiny in Guernsey go wider than the functions and operation of the scrutiny committees themselves.
"The problems are endemic and require systemic change," she said.
The Scrutiny Committee, the Public Accounts Committee and the Legislation Select Committee were set up in 2004 after a comprehensive review of the system of Guernsey's government.
'Virtually invisible'
The States decided in March to conduct another review, however Ms Crowe said this should not be allowed to delay reform of the scrutiny process.
There was a "lack of clearly defined processes and timescales for scrutiny activity" meaning that "mistakes are more likely to be repeated and money more likely to be wasted", she said.
The Legislation Select Committee was described in the report as "virtually invisible to all except its members and the Law Officers".
"Its mandate, or at least the committee's interpretation of its mandate, requires it to perform little more than a proof-reading function," Ms Crowe said.
However, she acknowledged there was "enthusiasm for improvement" within the membership of the committees which created "a positive platform for change".
At the last meeting of the States before the election on 18 April, the chairman of the Scrutiny Committee called for more powers to hold deputies to account.
Ms Crowe's report recommended that the new Scrutiny Management Committee's chair should be selected before department ministers to boost their prestige.
Following the report's publication earlier, a Policy Council spokesperson welcomed the review and encouraged the next States to consider it "with some momentum".