Future of Guernsey's Cour du Parc tower block undecided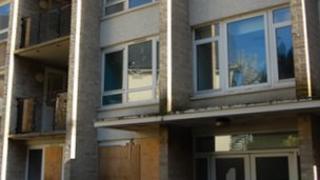 The future of Guernsey's only tower block is still undecided, more than a year after tenants were moved out.
Cour du Parc in St Peter Port was vacated in February 2011 as the Housing Department deemed it unfit to house its mainly elderly tenants.
Deputy Housing Minister Graham Guille said: "We don't have endless staff resources... so something had to wait and I'm afraid it's been Cour du Parc."
Electors raised its disuse at hustings ahead of the election on 18 April.
Deputy Guille said the block needed extensive work to make it habitable for any future tenants.
Specialist workers
Work includes making balconies safe, fixing the existing lift, installing a second lift and the replacement of the central heating system.
Deputy Guille, who is not standing for election, said: "We'd be delighted to get it back into operation but it's important that we do it in a way that gives the taxpayer value for money."
He said Housing was keen to see the building used by another department to accommodate specialist workers brought to the island on a housing license.
The Public Services Department had been approached over housing airport project workers at the block but turned down the offer, he said.
Jim Roberts, the director of housing services, said there was no guarantee the building would be refurbished.
He said the department would continue to investigate "whether it makes more sense to sell it and reinvest the money into the provision of social housing elsewhere".
But rather than determining the block's future, the department's top priority this year is a £55m investment in "257 new homes for social rent, partial ownership and extra-care".