Guernsey remembers Titanic losses with plaque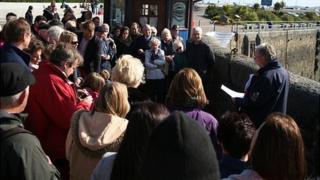 The 14 Guernsey passengers who lost their lives when RMS Titanic sank on 15 April 1912 have been commemorated with the unveiling of a plaque.
A further five islanders survived the loss of what was at the time the world's largest vessel.
The family of Laurence Gavey, one of those who lost their lives, paid for the 14-sided blue plaque raised near the Weighbridge in St Peter Port.
The plaque was unveiled by Titanic author Alisdair Crosby from Jersey.
Jeff Wilkes-Green, who along with his brother and sister paid for the plaque, said on the anniversary of the tragedy they wanted to pay tribute to the islanders who lost their lives.
He said: "We felt it was very fitting to have a plaque down at the harbour where they left.
"The shape was specially chosen, one side to represent every life that was lost from Guernsey."
More than 1,500 people died when the ship hit an iceberg 740km from Newfoundland.
Albert Denbouy, 25, a grower and keen footballer was one of them.
He left Guernsey on SS Alberta to join the Titanic in Southampton and while it sailed to Cherbourg and on to Queenstown in Ireland he wrote a letter to his family.
His great nephew Gerald Ozanne, 85, has the letter, which was written on Titanic headed paper.
Mr Ozanne said his relative was travelling 3rd class as he emigrated to live with relatives in New Jersey.
He said his research had found Mr Denbouy was credited with helping two of the islanders who survived to the lifeboats.
Mr Ozanne said a newspaper report described what were likely to be his final moments with friend and fellow Guernseyman Joseph Duquemin.
He quoted the newspaper: "Joseph remained on board, with friend Bert Denbouy, he jumped as the ship foundered to ship for a nearby lifeboat, but it appears Bert hesitated and went down with the vessel."
Duquemin, a 19-year-old stonemason travelling to New York in search of work, was one of about 700 on board who survived.
Mr Ozanne said: "It's great to remember... you think more of these things as you get older I think."