Guernsey trust ready to build second greenhouse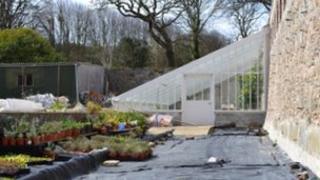 Guernsey's Botanical Trust has raised £65,000 to build a glass house as part of a Victorian walled garden project at Saumarez Park.
Having obtained the funds, the trust has reapplied for planning permission to build an "orchard house".
Permission had previously been granted by the Environment Department but it lapsed before fundraising was complete.
Raymond Evison, the trust's president, said: "We're absolutely delighted to get to this very important stage."
Peaches, avocados and other fruit trees will be grown in the new greenhouse.
It will be built alongside the "lemon house", which was completed in 2010.
The trust is also planning a third construction project will produce a "vine house", bringing the total span of glass to 170ft (52m).
Mr Evison said dozens of volunteers had worked to recreate the 19th Century garden.
The Environment Department will now reconsider the application.