Two rescued from Ardel yacht after it hits St Peter Port rocks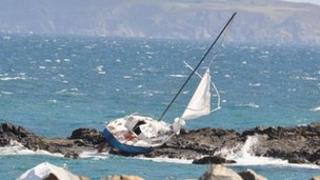 Two people have been rescued from a yacht off Guernsey.
The coastguard was alerted at about 01:00 BST that the yacht Ardel had run into rocks outside the St Peter Port Harbour entrance.
The lifeboat was launched but could not reach the yacht because of a lack of water depth and called for assistance.
A dory boat from Guernsey Harbour was sent out and managed to retrieve the two people and return them to harbour.