Sir Isaac Brock portrait loaned to museum in Canada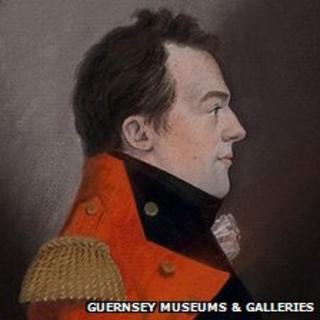 A portrait of the Guernsey-born General Sir Isaac Brock will be loaned to a museum in Canada.
The pastel picture was bought by the States of Guernsey in 2009, and is believed to be the only likeness of Sir Isaac as an adult in existence.
He was killed while defending Canada against an invasion by the United States of America at the Battle of Queenston Heights in 1812.
The portrait will be displayed in the Riverbrink Art Museum in Ontario.
It is thought to have been created by the Dutch artist Gerrit Schipper around 1808-09, when Sir Isaac was in Canada.
The military chief led the defence of Upper Canada after America declared war on Britain in 1812.
He was responsible for the capture of Detroit, and was shot midway through the battle of Queenston Heights while reinforcing a charge.
The battle was the largest clash of the war up to that point, and ended with much of the American militia being forced to surrender when cut off from the rest of the army.
The Riverbrink Art Museum is close to the site of the Queenston battlefield and a monument to Sir Isaac stands on the site.