Guernsey's Rock of Ages promotes new bands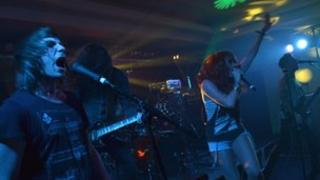 Over the past three and a half years, Rock of Ages has strived to provide a place for Guernsey bands to showcase themselves on a large stage.
Organisers have aimed to provide performances for all age groups.
The idea came to musician Mark Guillou while doing organising sound for shows at the now defunct L'Ancresse Lodge.
He said: "I thought we'll put on more established bands and let younger bands support… [at a venue where] anybody can come and see it."
Since summer 2011 Rock of Ages has also featured bands from Jersey and in April 2012 welcomed it's first UK band, in the form of Evarane from Southend-on-Sea.
Mark said that finding the right venue had been a challenge as, when L'Ancresse Lodge closed in 2008, there was not another obvious venue.
He said: "We did a few at the Performing Arts Centre, but it was a bit too big for our needs and possibly a bit too nice as well."
He added that while the Fermain Tavern venue was "a great set up", it was for over 18's only.
Therefore Rock of Ages made its home in the large function room at the Carlton Plaza.
Mark said: "It's a fantastic venue and it's the last remaining decent room that's around for this sort of thing.
"We are even looking to develop the whole room for Rock of Ages and other things as well."
Acoustic night
Having found a home Mark has developed the events with a mix of nights, mostly featuring live bands but including both an acoustic night and a club night.
He said hoped to repeat those in future, though he admitted that, "the club night wasn't so well supported."
Martyn Brown played at a number of Rock of Ages events in several different bands, including From Bedrooms To Backseats who played the April 2012 show.
He said: "When I first started playing live gigs about 6 years ago I played a lot of nights where I couldn't hear a thing on stage and there wasn't room to swing a cat, so it's a great opportunity for all bands that get a slot at any of the Rock Of Ages events."
One of Mark Guillou's main aims with the nights, as well as giving local bands the chance to play a "big stage with big sound and big lights", is to give young musicians and music fans a chance to get together, as normally they can't see live music if it is taking place in a pub.
He said: "Hopefully the younger crowd will come away thinking 'Yeah, I'd like to have a go at that'.
"It's a place for younger musicians to meet up… recent reports have highlighted playing music as beneficial for youngsters' self esteem."
Rusty, who sings and plays bass for The Doomsday Project - who played their first public gig at the April 2012 event - said: "It was a brilliant opportunity for us and it gave us a huge buzz supporting Evarane… it has given us the confidence to perform again."
With a Rock of Ages stage debuting at Guernsey's Chaos festival this summer, and more gigs planned for later in the year, Mark said he plans to continue the events once the summer festival season has died down.
He added: "I don't audition bands or choose people, I don't have to like your music, you just have to want to play."
If you want to play a Rock of Ages event in the future Mark said all you need do is keep an eye on the Facebook group for the events and get in touch with him when one is announced.