Lyndon Trott out of Guernsey chief minister election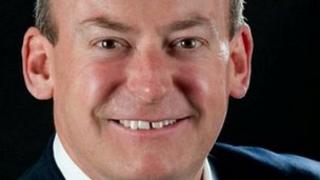 Deputy Lyndon Trott has withdrawn his name from those nominated to be the island's chief minister.
The current chief minister, whose term ends on 30 April, said going for the post had "polarised the States".
Since the nominations were announced opinion has been divided across the island over the rules governing who can hold the post of chief minister.
Deputy Trott said these discussions were harmful to the island and hoped his not standing would end the issue.
Since the nominations for chief minister closed on Monday, a move has been put forward to change the qualifications for the rule, which, if successful, would mean those without any former experience in the States could stand for the position.
The motion will be debated on the same day of the chief minister's election on 1 May and if approved a new nomination period will be held.
If the move is defeated then the election will be held with just one candidate - Deputy-Elect Jonathan Le Tocq.
It follows last week's election results that appeared to call for a change in the way the States operates with 12 of 35 sitting deputies losing their seats, including the deputy chief minister.
'Support successful candidate'
Five of the seven districts were topped by first time candidates, while another was led by someone who had not served in the States since the 1980s.
Although Deputy Trott received more votes than in the last election in 2008 he was returned as the lowest placed of the six successful candidates in St Sampson.
Deputy Trott said: "I will support the successful candidate for chief minister, and should they wish to draw upon my experience in the future I will of course put myself at their disposal and that of the States.
"I am grateful to Deputy-Elect Perrot for nominating me, and to Deputy Jones for seconding me, and to the people of St Sampson's for electing me for a fourth term."