Lyndon Trott may yet seek re-election as Chief Minister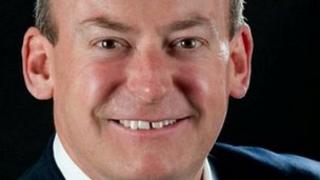 Guernsey Chief Minister Lyndon Trott has declined to rule out standing for re-election to the post.
Deputy-elect Jonathan Le Tocq is the only candidate left, following Deputy Trott's withdrawal on Wednesday.
However, a proposal to change the criteria for eligibility will now be debated immediately before the new deputies make their choice.
Asked if he would consider standing if the rules changed, Deputy Trott said: "Never rule anything out in politics."
"You must never say never because these things are very much movable feasts," he said.
"It's clear that many in the States believe that change is important and whilst I would agree that change often renews and refreshes, there is absolutely no substitute for experience," he told BBC Guernsey.
Emergency report
Deputy-elect Peter Harwood had his nomination refused by the Bailiff during the official nomination period.
He is currently ineligible on the grounds that he has not served as a people's deputy for four or more years out of the last eight.
However, an emergency report by the States Assembly and Constitution Committee seeks to remove that bar, opening the potential field to all 47 States members.
Currently, only 23 deputies are eligible.
The newly elected States assembly will choose a new chief minister on 1 May.