Fire on Condor Ferries' Commodore Clipper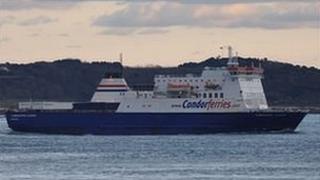 A fire has broken out on a ferry travelling between Portsmouth and the Channel Island of Guernsey.
Crew members on the Commodore Clipper discovered what they described as a "minor fire" in an engine's oil heating system at about 13:20 BST, operator Condor Ferries said.
It was extinguished and there were no injuries among the 220 passengers and 39 crew on board, it added.
The 129m (420ft) ferry is returning to Portsmouth under its own steam.