Job losses at Moonpig warehouse in Guernsey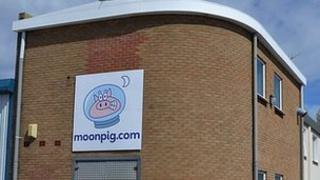 Job losses are expected at another mail order firm in Guernsey in the wake of the scrapping of a VAT relief on items sent to the UK.
The BBC understands the majority of Moonpig's greeting card business will stay in the island.
However, part of it will move elsewhere and this means the loss of a small number of jobs.
In a statement, a spokesman said: "The end to LVCR has meant change for all businesses and ours is no exception."
Low Value Consignment Relief, which allows low value items to be sent to the UK tax free from outside the European Union, was stopped for the Channel Islands on 1 April.
The company's spokesman said: "We have reviewed our operations here and found a way to ensure that the competitive, effective and growing greeting card business we have in Guernsey continues to develop.
"Making this happen has, however, involved some tough decisions and those have not been taken lightly.
"We do believe that Moonpig has a bright future ahead and that Guernsey will continue to play a crucial role in serving and growing our card customer base."