Guernsey care housing project given approval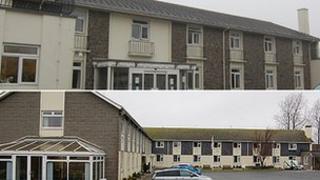 Approval has been given for two extra care housing sites in Guernsey.
The project will involve the accommodation being built on the site of the current residential care homes - Longue Rue House and Maison Maritaine.
The aim of the new buildings is to provide services to enable people to live an independent life for longer.
The Treasury and Resources Department approved the project after reviewing the benefits of the change.
The housing will include 79 one-bedroom and 34 two-bedroom self-contained flats, communal lounges, a restaurant, activity rooms and a hairdressing salon.
The new building will replace the current care homes run by the Health and Housing Departments.
Deputy Hunter Adam, Health and Social Services Minister, said: "Phase one of the development on each site will include enough new flats to accommodate all the existing residents of Longue Rue House and Maison Maritaine.
"In addition, on the Maison Maritaine site there will be a day centre and at the Longue Rue site 15 self-contained flats for people with a learning disability or other social care needs who are currently accommodated by the department."
The States had already agreed to provide up to £22m for the first phase of the project with the remaining development costs, estimated at about £10m, due to be provided by the Guernsey Housing Association.