Guernsey's deputy chief minister 'should share burden'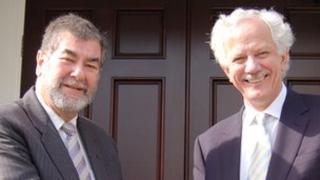 Guernsey's chief minister and deputy should work together more closely, according to a former States member.
Stuart Falla, who held the post of deputy chief minister between 2007 and 2008, said the two roles had not been coordinated well in the last term.
Deputy Peter Harwood was elected as chief minister on Tuesday and a deputy chief minister will be chosen on 8 May.
Mr Falla said: "It's better that you have somebody you work alongside... so in a way you share the burden."
He added: "I don't believe that to be the case in this last four years."
Stuart Falla served as deputy chief minister under Mike Torode for 15 months leading up to the 2008 general election, at which Mr Falla stood down.
Following the election Lyndon Trott was picked to be chief minister and Bernard Flouquet chosen to be his deputy.
Mr Falla said of the role of deputy chief minister: "There are two significant alternatives - you're there as a 'spare', only wheeled out when the chief minister is unavailable, or you form a team.
"Having a spare means that really you've got somebody with a title who doesn't do a great deal."
He said he favoured the idea that the deputy chief minister should be "without portfolio", rather than also being tied to a political department.
He said: "I think you have to pick two people that can work together, want to work together... that way I think we can get that harmony that needs to be brought to the States."
Former Chief Minister Deputy Lyndon Trott and former Deputy Minister Bernard Flouquet declined to comment on the matter.