Guernsey Harbour Carnival benefits local Scouts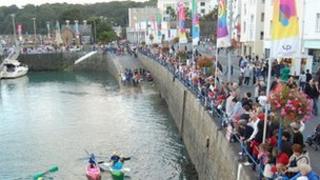 Guernsey's Scouts will benefit from the 2012 Harbour Carnival in St Peter Port.
The carnival, which will take place on 6 July, involves a range of events and traditionally ends with a man-powered flight contest.
Julie Bulpitt, Bailiwick Commissioner of the Guernsey Scouts Association, said the money would be used to purchase new equipment.
Applications for funding from the Harbour Carnival were opened in March by organisers the Guernsey Round Table.
Shaun Gorley, president of the group, said: "The Guernsey Scouts Association gave us a really compelling application.
"We're thoroughly pleased they will be the main beneficiary of funds raised from the Harbour Carnival."
The 2011 Harbour Carnival raised £14,452 with speech therapy support group Wigwam receiving 50% as the main beneficiary.