Guernsey Post helicopter 'most cost-effective'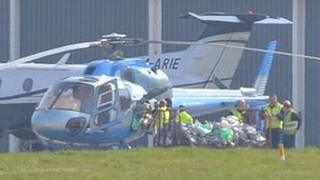 Using a helicopter to ensure deliveries continue is the "most cost-effective and practical solution" to airport closures, Guernsey Post has said.
The airport is due to close for a total of eight days in 2012 to allow work as part of a £80m airfield refurbishment.
The company has been using a helicopter to transport special delivery and greeting cards during the closures.
Cassandra Morris, communication co-ordinator, said it was the best of various options they had explored.
She said: "The cost of the helicopter is almost entirely offset by the cancellation of the normal mail plane."
The second of four two-day closures is due to take place on 8-9 May.