Guernsey gunners for jubilee 21-gun salute chosen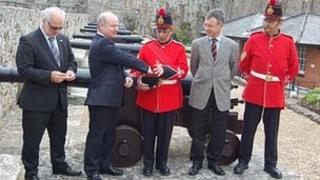 Islanders born in the year the Queen took to the throne have been chosen to fire a 21-gun salute in Guernsey to celebrate the Diamond Jubilee.
The 13 names were drawn at random after organisers were "bowled over by the response" from 57 volunteers.
Saluting Battery Sgt Maj Keith Pike said they were including as many volunteers as they could.
The salute will be fired by seven guns, each firing three times, at Castle Cornet at midday on 5 June.
The cannon annually fire a 21-gun salute on the Queen's official birthday.
He said it was believed to be one of only 10 saluting stations outside of London that may fire a 21-gun salute.
Castle Cornet, at the entrance of St Peter Port Harbour, has a unique royal pedigree as it was the last royalist stronghold to surrender in the English Civil War.
When fighting broke out in 1642 the island's governor Peter Osborne and the garrison of the castle remained loyal to the Crown while the rest of the island declared for the Parliamentarians.
The royal standard was lowered from the castle's keep on 19 December 1651 when the royalist forces surrendered.