Guernsey States ministerial elections held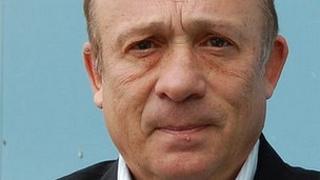 Deputy Kevin Stewart has been elected as Guernsey's new Commerce and Employment Minister.
He is the only minister elected who was not Chief Minister Peter Harwood's candidate.
Deputy Stewart defeated Deputy Roger Perrot, the preferred candidate, by a vote of 28-19.
Deputy Al Brouard, who also stood for the position, was removed after he failed to get enough support in the first round of voting.
In that round, Deputy Stewart polled 18 votes, Deputy Perrot 17 and Deputy Brouard 12.
The election for environment minister was decided by just one vote.
Deputies Roger Domaille, Barry Brehaut and David De Lisle were all nominated.
Deputy De Lisle was eliminated in the first round of voting after he secured six votes while Deputy Domaille got 21 and Deputy Brehaut 20.
In the second round of voting it was a result of 24-23 in favour of Deputy Domaille.
Deputy Allister Langlois has been elected as Guernsey's new Social Security Minister.
He received 24 votes, while the other two candidates Mark Dorey and Mary Lowe got 18 and five respectively.
Appointed unopposed
Deputy Langlois was the preferred candidate of Chief Minister Peter Harwood.
First-time Deputy Paul Luxon was elected as Public Services Minister after he polled 31-16 in a vote against Deputy Jan Kuttelwascher.
Deputy Dave Jones was returned to his position as Housing Minister after receiving 27 votes.
Deputies Barry Brehaut and John Gollop, who stood against him, received 11 and nine votes respectively.
Five deputies have been appointed unopposed, including Gavin St Pier as Treasury and Resources Minister.
No-one stood against Jonathan Le Tocq as Home Minister and he was also appointed as Deputy Chief Minister, beating the chief minister's candidate Allister Langlois by a vote of 30-17.
The other three - Robert Sillars as Education Minister, Hunter Adam as Health and Social Services Minister and Mike O'Hara as Culture and Leisure Minister - held the same posts before the election.
Voting record published
Deputy Rob Jones beat the previous Legislation Select Committee chairman John Gollop to the role by a vote of 26-21.
Two members of the last assembly's States Assembly and Constitution Committee competed for the position of chairman with Matt Fallaize coming out on top of former vice-chairwoman Mary Lowe by 36-11.
There was a lot of interest in the Scrutiny and Public Accounts chairmanships.
Alderney Representative Paul Arditti topped the five candidates for the Scrutiny role with 27 votes.
Deputy Heidi Soulsby was the victor of the four deputies looking to head up the Public Accounts Committee with the support of 25 States members.
It makes her the only woman to lead a department or committee in the new States.
Before the elections began, States members agreed the voting records of contested elections, which are done by ballot, would be published after all the elections for departments and committees have been completed.