Guernsey's Grosse Rocque flag raised early to beat wind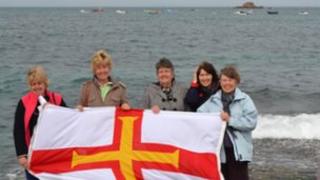 Guernsey's traditional flag-raising at the Grosse Rocque took place a day early, as strong winds had been forecast for 9 May.
The Guernsey flag on the prominent rock off the island's west coast is replaced every year on Liberation Day but in 2011 was delayed by rough seas.
In addition, the flag which will be taken to the rock next year was blessed during a ceremony at Cobo Bay.
The Reverend Jim Sykes addressed a crowd of more than 100 people.
He said: "May all who see it flying in the wind regard it as a token of peace."
A tradition of raising a Union flag on the rock every August pre-dates World War II.
This was suspended by the occupying German forces from 1940-1945 and then revived by Fred Martel.
It has continued since then as a celebration of the island's liberation on 9 May, 1945.
Since 1986, when the island got its own flag, the Guernsey flag has flown.
Mr Martel's grandaughter, Sandra Martel-Dunn, told BBC Guernsey she was delighted to see so many Castel parishioners turn out.
She said: "It's 20 years since my grandfather passed away and it feels like just 20 days because it feels like he's still around here."