Channel Islands bee initiative involves school children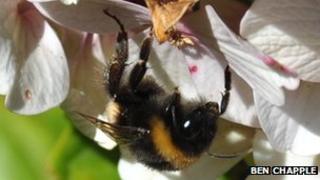 Pupils from primary schools have been involved in a project aimed at increasing the number of bees in the Channel Islands.
Leaflets and seeds have been distributed to schools in Guernsey and Jersey aimed at getting local children to plant wildflowers to attract bees.
The initiative is being run by the Channel Islands Co-operative Society.
Cate Mason, the head teacher at St Martin's school in Guernsey, says planting flowers has helped learning.
Alan Jewell, President of the Guernsey Beekeepers' Association, said: "We have been concerned to maintain the health and strength of our bee population.
"If islanders can support us by following a few simple steps... our bees have a better chance of prospering."
The Channel Islands Co-operative Society is encouraging islanders to plant wildflowers, which will help to provide pollen and nectar.
In recent years, bees in Guernsey have avoided succumbing to the American Foulbrood disease, while a third of Jersey's bees were wiped out by the disease in 2009.